WHILE production facilities in many chemical and pharmaceutical plants are becoming increasingly digital, communication between shifts at these plants is often still manual. Activities, tasks, and daily work instructions between shifts are either passed on orally or recorded with pen and paper. Handover-relevant information in ad hoc communications – such as emails and phone calls – also need to be accounted for, making the handover inefficient at best, and even prone to causing operational losses and safety risks, at worst.
Thankfully there are digital solutions that can make handovers simpler, more efficient, and transparent.
A rough calculation (based on 10,000 plants operating 365 days a year) tells us that  the chemical industry in the US alone handles several million shift handovers per year. This process chain thus creates the potential for more than 2m errors annually. For example, if important conversations, guidelines on compliance or plant safety are not clearly communicated during a shift change, significant mistakes can occur. On the other hand, there are also more than 2m ways to increase the efficiency of handovers. This is especially true during important morning meetings in which different decision-makers take part. It is important to use this meeting time effectively so that no important information falls between the cracks.
A key recommendation to ensure that seamless, error-free shift handovers occur is to use software-based systems so that the entire process is recorded digitally. This can ultimately enable transparent networking of all communication participants as well as create audit-proof documentation of all shift-related events to increase plant efficiency and optimise production.
Interactive software
50% of all operating errors occur in the first 30 minutes after a shift starts (TJ Larkin, Communication Consulting). So a key question to address is how can this important process of shift transfer be wholly optimised?
The Internet of Things (IoT) has achieved efficiency gains in the production sector in recent years, and most manufacturers know that technology and digitalisation are changing the industry. Modern control rooms are increasingly the 'brains' of a digital network of production assets, where collecting and evaluating production-relevant data is part of day-to-day business. And the pace of these changes is increasing exponentially.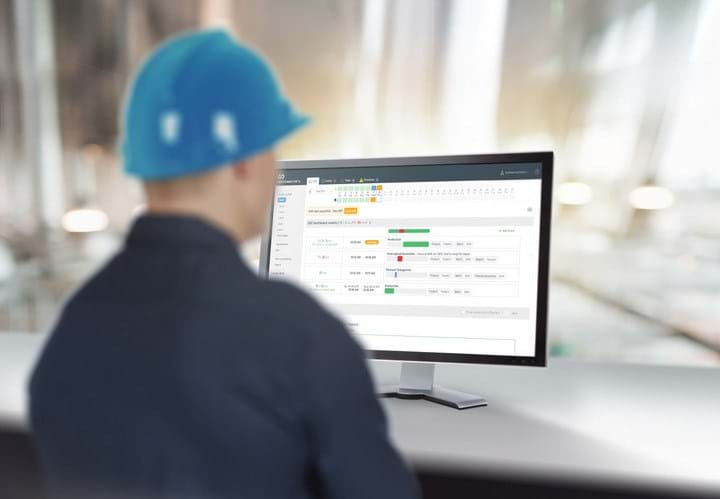 Extending digitalisation to shift communication
While this has led to an even stronger networking of systems and hardware, the brains of people involved in the shift are still not digitally connected. The skilled personnel, the production and shift managers, the employees at the machines are still dependent on efficient communication. Our clients tell us that typically, in a complex chemical plant, a newly-hired shift supervisor needs an average of five years' training to understand exactly how their department works. Such a long period is necessary to be able to work safely and confidently.
Although many plant processes may already be digital, in most cases the shift handover still takes place on paper or orally. The entire process is neither continuous nor highly automated. Just imagine the enormous amount of paper for millions of shift handovers each year and the high volume of non-recyclable data that results. Even companies that record details about their shifts in spreadsheets have an unbelievable amount of unused data.
Using software such as an interactive shift logbook will prevent important information from being lost and can provide users with a sustainable vision of data transparency, increased efficiency and increased plant safety.
Daily challenges of a 24/7 production plant
As a general rule, there are certain shift patterns that run over 24 hours and bring with them very individual requirements. Every company must ask what are the communication goals between shifts? Information about the events occurring during the shift is passed on, for example, if quality deviations occurred during batch production. Or mention is made of tasks that have not yet been completed and therefore fall into the next shift, such as ongoing pumping activity. Also, shift handover can focus on current instructions if, for example, the leading process engineer recommended special work instructions the day before. This is especially true at the morning meeting when many individual specialists from very different areas are involved. This precious meeting time must therefore be used in a goal-oriented manner. All relevant incidents, tasks and instructions must be summarised and forwarded directly to the correct recipients.
Many plant managers communicate with their shift team by email
The way information is delivered usually plays a role in who transmits what to whom. For example, many plant managers communicate exclusively with their shift team via email. Shift workers then know that they must spend a lot of time with their email inbox when they return from vacation just to get an idea of what happened during the last few days, what's happening now and what needs to happen next. The whole process becomes even more confusing, of course, when an inbox has several different emails with varying 'versions of the truth' and no uniform set of instructions can be recognised.
In addition, there are production managers, quality managers, environmental health and safety (EHS) managers and senior engineers who usually occupy a 9-to-5 position in the company. They also send instructions to the shift teams, even though they are not really involved in shift operations. This group of people can never really be sure whether, and to what extent, the last instructions were executed at the right time.
 The effectiveness of shift operations depends very much on clearly defined and precise information flow. When a production manager is out on weekends and only works Friday to Monday, how have the shift managers and shift teams communicated with this manager in the meantime? The bottom line is that anyone who comes to the office on Mondays and sees a full desk with piles of paper in front of them, who must also work through a full inbox, and who possibly even still has sticky notes with cryptic instructions on their monitor would benefit from switching to a digital platform.
Integrating service personnel and maintenance teams
In addition to shift teams, there are many other technical employees, such as maintenance and service employees, who have nothing to do with the actual shift processes. As a rule, these specialists require an individual handover outside of shift operations. They are heavily dependent on preparation by earlier shifts, for example when a boiler needs to be cooled down and decontaminated so that maintenance can be carried out safely and effectively. So a digital system must be networked directly with maintenance systems. Once the service has been carried out, the technicians can note this in the shift report with just a few clicks or taps.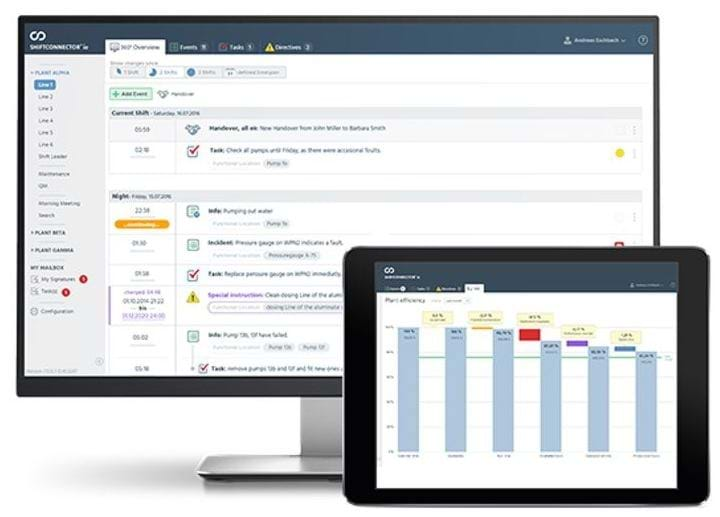 Identifying priorities and implementing them according to importance
Another typical situation is when a process engineer arrives for work on a Monday morning and has an inbox brimming with new emails. How to prioritise? For example, the engineer may receive five reports every weekend, each with 50 lines of shift information. But on average,  only two or three sentences per report really require attention. Everyone knows how time-consuming and tedious it can be to search their emails for priorities, and worries about potentially overlooking something decisive. Automated email reporting that can be triggered either cyclically or for defined events can be fulfilled by software. Reports can also be retrieved live at any time so that those responsible engineers receive a daily updated overview of special incidents, with priority and status.
Optimally directing the flow of information
What person A says may not be what person B understands. This is the number one source of communication error in shift operation. An interactive shift log provides a goal-oriented communication flow based on valid data acquisition. Like a technical assistant, the system would ask the right questions at the right time, using specific forms with individual fields to allow information to be captured in a meaningful way and saved for future use.
Visualising recurring activities
Recurring instructions from the areas of environmental protection, health, and safety can also be comprehensively digitalised and integrated into a digital shift log, for example inspecting safety showers. Many companies use paper documents or spreadsheet tables for this. But with more modern software, these tasks could automatically be tracked and displayed to the relevant employees with a reminder function. Escalated tasks could also remain on the system interface and be displayed to the next shift team as "still to be completed."
Having software in place to take care of your documentation, and especially communication across shifts, should be a no-brainer.